The National Audit Office has today (1 December 2021) published its report into the NHS backlog and waiting times in England - which can be read here: NHS backlogs and waiting times in England - National Audit Office (NAO) Report
The report is split into four parts:
Part 1 - Trends in waiting lists
Part 2 - Cause of backlogs
Part 3 - Independent healthcare and the NHS
Part 4 - Future challenges and responses.
The growth in the backlog
It is well known that the increasing backlog in NHS waiting lists has been a long-standing issue, which the pandemic has exacerbated. The NHS will, in usual times, aim for at least 92% patients to start elective treatment within 18 weeks of being referred to a consultant. At the start of the pandemic, 17% had been waiting longer than 18 weeks, with a steady deterioration since 2013.
The pandemic has had a significant impact. Initially, referrals plummeted, but they have since returned to pre-pandemic levels. As at September 2021, over 300,000 patients have been on waiting lists for more than 52 weeks. Waiting times for urgent cancer care has also been severely impacted.
'Missing' referrals and the medium term impact
For the period from March 2020 to September 2021, NHSE&I estimate that there are between 7.6m and 9.1m "missing referrals" - i.e., those patients that have not been referred to a consultant, compared to pre-pandemic estimates for elective care.
The impact if these "missing referrals" should not be underestimated. These are the patients that, were it not for the pandemic, were expected to have sought elective care within the NHS (whether supported by independent providers or otherwise). These patients are expected to either now pursue those referrals (creating immediate additional demand) or put it off for even longer, and in doing so, potentially allowing a condition to deteriorate and become more difficult and more costly to resolve in the future.
The graphic below shows the potential impact that this may have on projected waiting list times to 2025, with the best case scenario putting elective care waiting times marginally above the current level at c. 5m and at the worst case, above 14 million. The reality is likely to sit in between.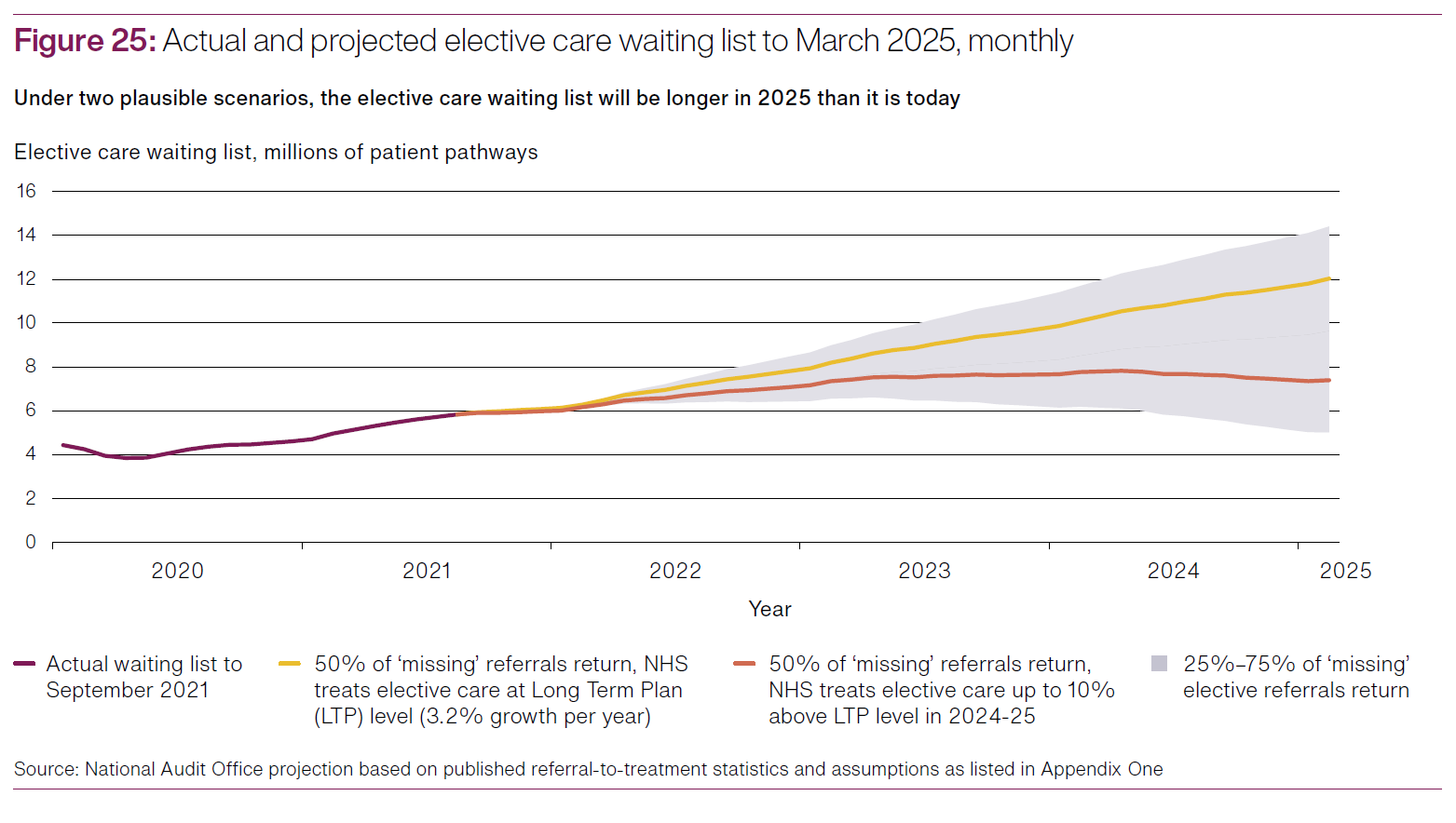 So what next?
The NAO is keen to emphasise that central government funding has or will be provided to tackle the backlog. This funding will be distributed through a number of avenues, including the Elective Recovery Fund (of £2bn for 2021/2) and Elective accelerator programmes, which involve additional funding for 12 Integrated Care Systems (ICS) to consider and deploy innovative solutions to address the backlog.
The most sizable fund allocation (£10bn estimated between 2021 and 2025) is proposed to be spent under the "Increasing Capacity Framework" (ICF). This framework was set up a few months into the pandemic to provide independent sector capacity, equipment and staff to be available to support the NHS.
Prior to the pandemic, approximately 8% of NHS elective care was provided via arrangements with independent providers, and NHSE&I recommends further collaboration between Integrated Care Systems (ICS) and independent providers in years to come. Anecdotally, some independent providers would welcome longer term appointments than have been seen to date on the ICF to allow for greater investment in services (and the benefits that investment would bring to patients) which short term "quick fix" appointments restrict.
Whilst this collaboration undoubtedly forms part of the longer term solution, so does investment in staff training. However, unlike the ability to call on existing capacity within the healthcare system, the report acknowledges that investment in staff recruitment and training will take some years to have a material impact.
unknown

x

500
More posts by Patrick Parkin
Recent posts from Burges Salmon blog